Sieur de Monts to Gorham Mtn.
Nominally 3.5-hours
Finding the trailhead
Since the end of this hike is about 4 miles from the beginning, one needs to take the park bus to Sieur De Monts. (Alternativelty, if you have two cars available, leave one car near the end point and drive the other to Sieur de Monts.)

This hike starts at Sieur De Mont. (A good alternate is to go up Precipice and pick this hike up at the summit of Champlain.)
Details of the Hike
Type of Hike: Spur
Total Distance: about 4.5 miles
Vertical up/down: about 1500 feet
Rating: Difficult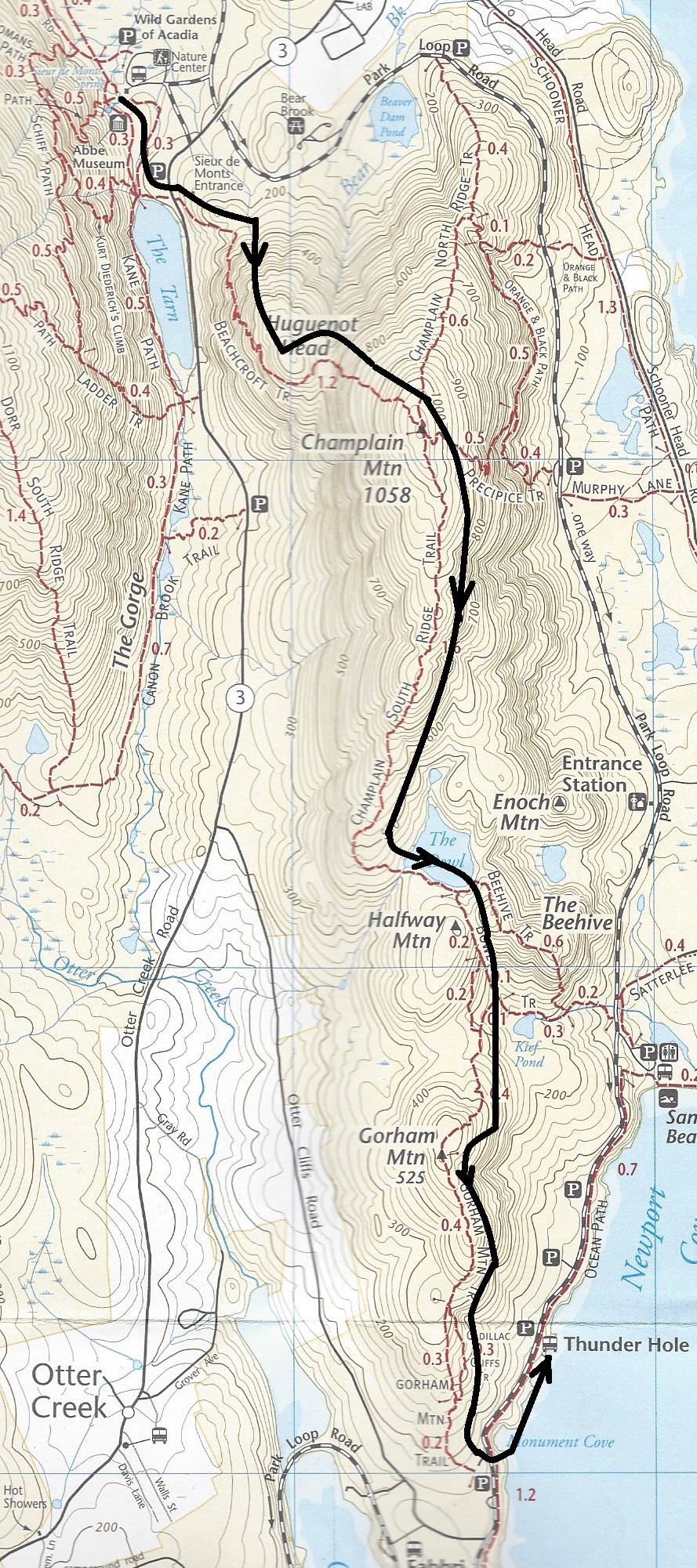 The Hike and its Views:
From there, take any of the options to the Tarn. At the Tarn, go left (east), cross the Highway and start ascending Huguenot Head to the top of Champlain Mt. Spectacular views of the Tarn and the east face of Dorr Mt. quickly begin to emerge.
As one gets higher on Champlain, Cadillac Mt. begins to appear behind Dorr. Eventually, Dorr looks like the the east face of Cadillac as the valley in between becomes obscured. By the time one reaches the summit which overlooks Frenchman Bay, the view becomes at least a 270 degree panorama.
Start going south on the South Ridge trail. The view includes Frenchman Bay to the left, Cadillac/Dorr to the right and the Atlantic Ocean straight ahead.
The Bowl comes into view where many stop to take a swim (although it is reported there are leeches in the Bowl). From the Bowl, begin to climb Gorham Mt. There has been a concerted effort to provide steps on some of the steeper faces which really is changing a lot of "hikes in the park" to "walks in the park." The hike up to Gorham is neither steep nor long, but at least it was natural. The views pretty much disappear into the woods on this part of the hike.
After we come to the junction with Cadillac Cliffs one can stay on the Gorham Mt. Trail or take the Cadillac Cliffs Trail. The Cadillac Cliffs Trail is in the process of being turned into steps. There are wonderful glacial boulders which one hikes under and the cliffs are on the right for most of the trail. It remerges with the Gorham Mtn. Trail.
this point views begin to appear of Great Head and Sand Beach to the left, Otter Cove, Otter Point and the Atlantic Ocean straight ahead. When one reaches the highway, one can continue on to Otter Point, walk back toward Sand Beach or wait for the Park Loop Bus or the Blackwoods Bus which should be along in half an hour or less.