West Face of Cadillac Mt.
nominally 3.5 hours
Finding the Trailhead
Ride the bus to the Bubble Pond Stop. Follow signage (or your map) to the West Ridge Trail Head to the left of Bubble Pond.
Upon reaching the bottom, there is a bus stop at the North Ridge Trail Head. (For a shorter return trip, hike around the corner of the one-way Park Loop Road and take the Jordan Pond Bus.)
Details of the Hike
Type of Hike: Spur ending at the base of the Cadillac Mountain North Ridge Trail.
Total Distance: about 3.6 miles
Vertical up/down: about 900 feet
Rating: Moderate to Difficult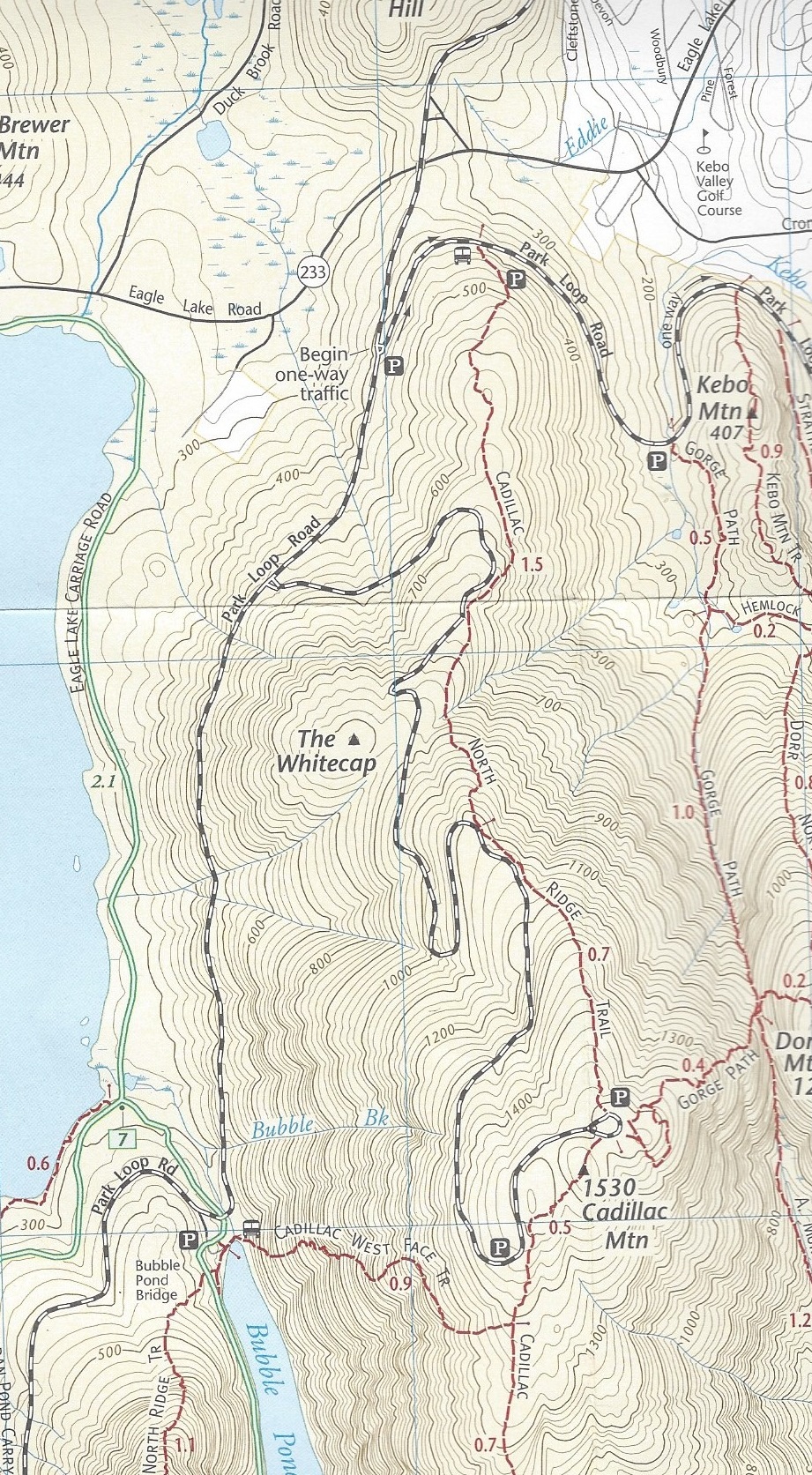 Description of the Hike
This is a superb trail and is probably the steepest trail in the park that has no ladders or iron railings. Iím not sure how I managed to hike for 20+ years in the park and never taken this trail. I will revisit this hike on my next visit to Acadia. The key thing that I did wrong was to go down the trail rather than up it. Itís clear that the trail crew wasnít striping the trail for those descending and it was easy to lose the trail going down. ďA Walk in the ParkĒ, hike 3-3 recommends taking it up; going to the summit of Cadillac, returning on the South Ridge to Cannon Brook, to the carriage road along Bubble Pond and back to where the hike began at the Bubble Pond Parking lot. This is a great hike just as recommended.
The trail has the property of not having been significantly altered by the trail crews. There are no lengthy stretches where one feels that s/he is ascending or descending a staircase and the areas without rocks have not been groomed into sidewalks.
In light of the bus system in the park plus my own distaste of hiking on the carriage roads, there are a number of variants but I recommend the following.
At the top of the West Ridge, follow the South Ridge (left, i.e. north) to the Summit of Cadillac Mt. and descend the North Ridge Trail.
The Views on the Hike
The views on the West Ridge are spectacular as Sargent Mountain rises from the south side of Eagle Lake, with the peak of Penobscot Mountain to the left (south). Beech Mountain is in the background. In the left foreground is Pemetic Mountain.
In Summary
The views from Eagle Lake and south really show off the topography of this region of the park, and of course, the iconic views from Cadillac Mt. (earned rather than driven) make this a B+/A- on my "uniquely Acadia" scale.

Hiked on 10/11/14